Whether you're new to remote work or not, here are some tips to keep you motivated and productive when you're working from the comforts of home.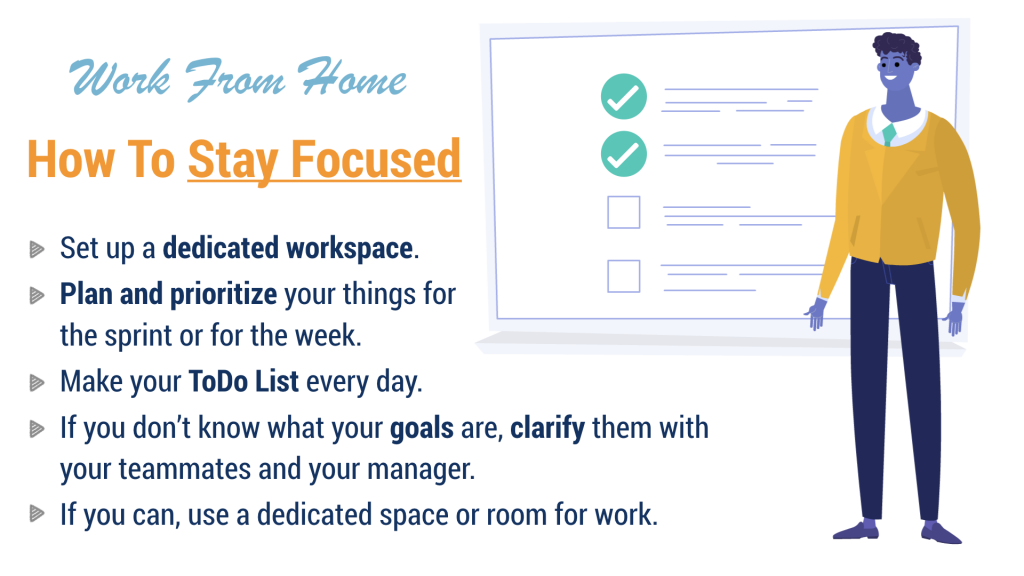 Set up a dedicated workspace
Whether you have a sprawling home office or a nook in your kitchen, it's important to have a dedicated office. Even urban dwellers with limited square footage should carve out a spot that's just for work. If you can, use a dedicated space or room for work. It helps avoid burnout.

Dress for success
Getting dressed in the morning makes you feel more in charge with what you have to get done. There is no need for a suit or a pencil skirt and heels when you're not leaving your home.

Plan and prioritize
Plan your things for the sprint, for the week and make your ToDo list every day. Learning how to prioritize means getting more out of the limited time you have each day. It's one of the cornerstones of productivity and once you know how to properly prioritize, it can help with everything from your time management to work-life balance.

Clarify goals and expectations
Being focused turns into a better performance. Good performance starts with people having a clear understanding of goals and expectations. If you don't know what your goals are, clarify them with your teammates and your manager.
Set working hours
Separating work from life is likely to be the most difficult thing – when there's no physical office to leave from, it's tempting to work longer than is expected.
Setting working hours is important. Share them with your family – especially if you are a newly work-from-home employee and you have your family in the home around the clock.
If it helps, set reminders to start and finish work, and even take breaks.